SenseTheme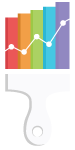 Gratis te gebruiken, echt waar!
Bezoek de website en ga aan de slag.
No code programmering
Ongeacht uw vaardigheidsniveau kunt u uw Qlik Sense-toepassing verfraaien. Point & click om te bouwen en download de code.
Ongeacht de versie
Of u nu Qlik Sense WIndows, Kubernetes, SaaS of Desktop gebruikt, deze oplossing werkt.
Makkelijk te delen
Pak gewoon de bestanden en stuur ze op. We hebben enkele van onze creaties gedeeld, heeft u ze al gezien?